B2E March 2021 Newsletter
In this month's newsletter, find out more about our Digital IT Transformation and Procurement Service Offerings and meet our B2E Principals in these areas – Karen Lageyre and Stephen Green.
Please also take the opportunity to contribute to this year's Future of Consulting Survey.
We have 3 #WednesdayWebinar events coming up in March as well as another one of our well-reputed CV Review sessions.
And please don't forget to use the links to update your details with us and review our latest consulting opportunities.
Digital IT Transformation
B2E Principal Karen Lageyre explains how Digital IT can be used to transform how organisations work, improve performance and deliver exceptional customer experience …
B2E Principal Stephen Green explains how effective procurement can operate as a strategic function to improve organisational profitability, streamine processes and costs …
Sharing Furniture, Avoiding Landfill
B2E is taking advantage of the fact that there's no one in the office to do a refurbishment and reorganisation of our space (we look forward to inviting you to come and see it when we're back in!). We asked for help in rehoming the office furniture to any charities that you might be connected with, and were absolutely thrilled with the response of our community – as of Monday ALL our furniture found new homes, with none of it needing to be sent to landfill. Thank you all so much.
Wednesday Webinar
3rd March
12.30pm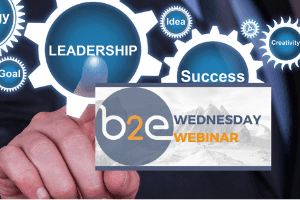 In this webinar, Lindsey Agness will explore "New Ideas for Leading Remote Teams" examining remote working, mental health & well-being …
CV Peer Review
10th March
12.00pm
B2E Partner Hugh Abbott will help you understand: if you have a good CV; whether it's too complicated and whether your CV is fit for purpose …
Wednesday Webinar
17th & 24th March
12.30pm
In these 2 sequential sessions on 17th & 24th March, Simon Rickman will explore the "7 Habits for Highly Effective Time Management"
…
Future Of Consulting Survey
We would be hugely grateful for your time and willingness to participate in an anonymous 15-20 minute online survey on this topic. The insights will be shared with various academic and popular business journals, and as a thank you we will give you access to the broader results of the survey. You will find the access information at the end of the questionnaire.
The survey is best suited to be completed on a PC/laptop/large tablet (rather than on a phone) as there are several questions that are much faster to do on a larger screen.
The survey closes on Monday 15th March 2021 at midnight.
The survey is being administered by Dynata, an independent agency. All data captured from this survey will remain anonymous and you will receive no further contact as a result of your involvement in this research. Many thanks in advance for your time and thoughts – and we look forward to seeing the results.
Please do take the time to send through a latest copy of your CV and tell us when you are next coming free.  You can either log in to the B2E portal here.  Or directly email us an updated profile and availability using the button below.
Looking For A New Opportunity Now?
Try Out The Free Role XChange
Our cross UK Job Board role aggregator search tool