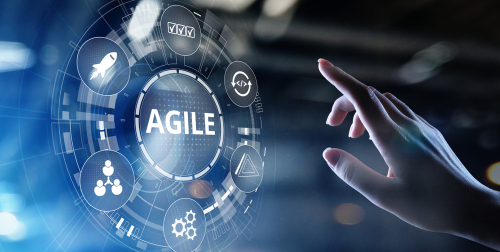 Embracing Agility: 

B2E Consulting's Secret to Success
Agile organisations have become the trailblazers of the business world, redefining the way companies operate and achieve success. In an era characterised by rapid technological advancements, market disruptions, and evolving customer demands, traditional hierarchical structures and rigid processes are no longer effective. Agile organisations, on the other hand, have harnessed the power of adaptability, collaboration, and continuous improvement to thrive in this dynamic landscape.
Long before agile was well known as a methodology, B2E Consulting operated along agile lines – and has been doing so since we started in 2004. We have always believed that a flat organisation structure, cross-functional teams, continuous improvement practices, and regular focussed communication lead to innovation, faster decision-making, improved customer satisfaction, and ultimately, a work environment to be proud of (as well as a sustainable competitive advantage). 
Open and Flat Organisation Structure
Firstly, B2E Consulting's open and flat organisation structure is critical to how the business operates. As part of an Employee Owned Trust, we are all partners in the business and have a stake in its success, meaning that everyone is engaged in working towards our future – collaboration and open communication are part of our core values. This structure promotes swift decision-making and idea exchange, and all our partners know that they work in a company where hierarchy takes a back seat, allowing everyone to contribute their ideas and expertise freely. This has meant that we have been able to quickly change our focus and direction when needed – such as meeting the challenges posted by changes to the IR35 tax laws – and continue to move forwards successfully. 
Cross Functional Teams
Also key to our operating approach is the way B2E assembles teams, both for client and internal projects. Every project is different, and the company excels at pulling together cross-functional teams with the right mix of skills and capabilities. This means that it is always the "A team" on point, ready to help our clients with their consulting projects and programmes or to take on any internal challenges we face. The collective strength and diverse expertise within these teams fosters an environment of innovation and problem-solving at its best. 
Continuous Improvement
Continuous improvement is deeply ingrained in the DNA of B2E Consulting, and all our partners embrace a growth mindset, and actively seek ways to enhance our processes and delivery practices – whether through informal face-to-face workshops or regular Teams calls. This focus on continuous improvement keeps us at the forefront of industry trends, whether it's embracing SAP4/Hana, acclimatising to a post-IR35 world or prioritising sustainability. It also allows us to minimise operational inefficiencies and their associated costs, whilst delivering exceptional results to our clients. 
At B2E Consulting, we understand that client requirements can change, particularly whilst defining exactly what they need from a consultant. Our teams have regular internal check-ins and realignment sessions during the process to ensure that we stay on track, making necessary adjustments along the way. This flexibility and responsiveness enable us to navigate shifting client needs with ease and confidence. 
Regular Open Communication
The final elements are our regular SCRUM sessions, and our quarterly meetings—the heartbeat of our organisation. Twice a week, we gather as a whole to share progress, align our goals, and address any challenges – and once a quarter we meet face-to-face. These sessions are not only an opportunity to collaborate but also a time to exchange ideas and insights that fuel our collective intelligence, as well as having some fun. The camaraderie and synergy in these sessions create an environment where we thrive as an organisation with every person working towards the same goals. 
In conclusion, operations, culture, and values at B2E Consulting can be defined by the power of agility. This creates an environment where collaboration thrives, innovation blossoms, and adaptation is second nature. We work together as a team that embraces agility as a fundamental principle, enabling us to deliver exceptional value to our clients, respond quickly to market changes, and foster a balanced and fulfilling work environment. 
About the author, Jo Young:

Jo spent 10 years at Accenture working in the Change Management and Utilities practices, largely in the areas of Programme Management, Change Management, Implementation Planning and Execution and Call Centre management.

She now ensures that things at B2E work in the way they should.